Stephanie Lynn Nicks was born in Phoenix, Arizona on May 26, 1948. She began performing at the age of four,and became interested in ballet and dance. Her grandfather, Aaron Jesse Nicks, was a small time country singer. They shared the love of music, and together sang duets in a tavern owned by Stevie's parents. Stevie had been writing songs all along, and received her first guitar from her parents, for her 16th birthday.

In 1965, Nicks and her family moved to Aetherton, California where she joined her first band, called "The Changing Times". In 1967, Lindsey Buckingham asked Nicks to join his band called the "Fritz Rabyne Memorial Band". After awhile, Fritz parished, but Stevie and Lindsey stayed together. They moved to Los Angeles where they recorded Buckingham Nicks in 1973 and released it with Polydor records, but they were dropped from the label soon after the release.

Mick Fleetwood heard their work, and through phone calls, set up meeetings with Stevie and Lindsey. Soon after, they were both invited to join Mick's band, " Fleetwood Mac", in 1975. It was not long before Stevie Nicks became the main attraction to the band, singing and writing a great amount of Fleetwood Mac's music and proving to be a force behind the band.

In 198, Stevie's first solo LP is released, titled "Bella Donna". Several excellent albums followed, and in January of 1998, she was inducted into the Hall Of Fame.

Having not released an album in six years, her upcoming solo album, to be titled "Trouble In Shangril-La", is much anticipated by her fans. Stevie co-produced about half the album with Sheryl Crow, who has become her good friend, as well as a musical callaborator.

"It's a rock and roll record," says Stevie.. "But there are some quieter things.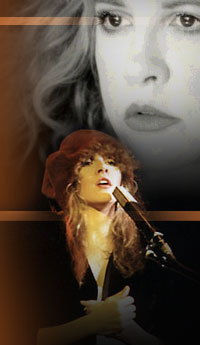 Stevie is a rare, unique artist that has enchanted many dedicated fans, for many years. Her poetic lyrics, alluring presence, and beautiful voice are only a few of the characteristics that she possesses as an accomplished female musician.