All sites will be judged on the following:
Visual Presentation - text, color, graphics
Creativity
Navigation
Composition
Originality
If you think your site is deserving of recognition and meets the design

requirements for an Enhanced Web Appeal Award, please do the following.

| | |
| --- | --- |
| | In the subject line type Enhanced Web Appeal Award |
| | Insert site URL, site Title, and site Theme |
| | Include your name |
| | Send e-mail to OnlyRnRoll@aol.com |

Do not submit sites that are of pornographic or sexual content, Racial or

biased, or exploits children in any way. Only sites that contain clean

content will be considered for my award.

No Commercial sites please!

If your site is chosen to receive my award, you will be notified by e-mail.
I will present you with an Enhanced Web Appeal Award, which will be
placed on your site, linking to my site. Once you place the award on your
site, e-mail me back within 10 days, and I will add your site to my page of
Award Winners. This will help you in getting site exposure and build
traffic to your site.

Good Luck !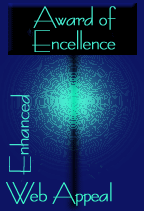 Previously Awarded Sites | Home